Questions about wheels
If you have any questions, please call toll-free 1-800-550-5777.
Alloy wheels vs. steel rims?

One of the most common questions we receive concerns the difference between a regular steel rim and a stylish alloy wheel. There are several differences you should know about before deciding what to buy.
Weight
A steel rim with the same dimension as an alloy wheel is a lot heavier. Reducing weight on wheels will translate into better vehicle performance and improved gas mileage. If performance and fuel economy are priorities for you, we suggest alloy wheels, specifically for diameters of 17 inches and more where the weight difference will be significant. If you are looking for the lightest alloy wheels available for a sports car or on the track, then the Flow Form alloy line is a good solution, offering very light wheels for a low price when compared to forged alloy wheels.

Durability
Steel rims are made of two pieces welded together (barrel and face), as opposed to alloy wheels that are usually a one-piece casting. Alloy wheels are generally stronger than steel rims; however, steel rims are easy to repair if they get damaged. Most alloy wheels will be very difficult and costly to repair.
Style
Steel rims are usually the same design from one model to another, and they are normally black. The only way to change their style is to install plastic wheel covers (hub caps). Alloy wheels, on the other hand, are available in a wide variety of designs, colours and finishes; from a matte black wheel with milled accents to a glossy red wheel with a machined lip, you can find pretty much anything you want.
Price
If you are looking to spend as little as possible for replacement wheels, winter wheels, a full-size spare wheel, or a damaged OEM (Original Equipment Manufacturer) wheel, steel wheels will be a perfect choice for you. The "OE" or "Replica" line of wheels is also a great way to replace an OEM alloy wheel at a fraction of the dealership price. If you want to personalize your vehicle, from plus size to a bigger diameter, or get a different wheel design, then alloy wheels are the ideal choice.
There are good options for the different needs a customer may have. With the correct answers to your questions, you will be able to determine exactly what product is the right one for you.


How to understand the technical information of a wheel.
Bolt pattern
The bolt pattern represents an imaginary circle going through the centre of wheel lugs. The most common bolt patterns in the industry are 4, 5, 6 or 8-lug holes. For example, a 5 x 114.3 bolt pattern represents a 5-lug pattern on a 114.3 mm diameter circle.
Centre bore
The centre bore is the large middle hole machined in the wheel to properly seat the wheels on the vehicle hub. It is important that the wheel's centre bore matches the vehicle's hub size. Most aftermarket wheels are machined with a larger bore to fit more vehicles and they use hub-centric rings to adapt to the car they're installed on. These rings have the same outside diameter than the wheel centre bore and an inner diameter matching the vehicle hub, making sure it fits perfectly no matter on what vehicle the wheels are installed. On the other hand, many replica wheels are machined with the exact diameter to fit on the car they're intended for. For steel rims, a lot of them are not hub centric but lug centric, meaning they are centred by the lugs. When install these make sure the vehicle is on safety stands with the wheels off the ground. Tightening the nuts will centre the wheel, and taking the weight of the vehicle off the wheel will prevent it from being pushed off centre.
Lug centric
Most aftermarket wheels are made with a larger hub to ensure that they will fit on a wide range of vehicles. This means that when the wheel is installed, there will most likely be a space between the axle and the hub instead of a firm contact. The wheel is therefore lug centric, as the wheel is centred by the lugs rather than by the hub. In the case of steel rims, we cannot use centring rings! But there is no danger putting these rims on. Most vehicles on the road will have lug-centric rims since they are more popular with garages. They only have to stock a small amount compared to a hub-centric wheel.
Offset
The offset is the measure of the distance between the centre of the wheel and the wheel's hub mounting point.
There are 3 offset categories: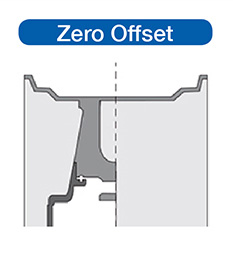 A. Zero Offset: This is when the wheel's hub mounting point is aligned with the middle of the wheel. This kind of offset is mostly used for older rear-wheel drive cars or for pickup trucks with large fenders.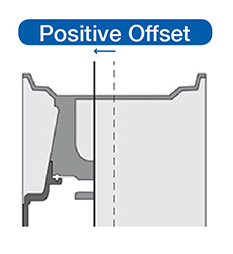 B. Positive Offset: This is when the wheel's hub mounting point is located toward the outside or front of the wheel. This kind of offset is the norm for front-wheel drive cars and most modern rear-wheel drive cars.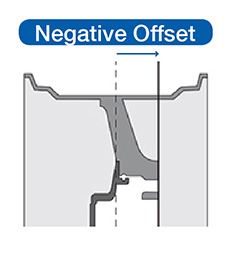 C. Negative Offset: This is when the wheel's hub mounting point is located toward the inside or rear of the wheel. This kind of offset is mostly used for older rear-wheel drive cars, lifted pickup trucks with fender extensions or sports cars with fender flares.
Hub centric
Aftermarket wheels usually have a standard centre bore size to accommodate a wide variety of vehicles. When you order from c-wheels.ca, hub-centric rings are free of charge! These are rings that cover the space between the centre bore of an aftermarket wheel and the hub of the vehicle. Hub rings are important because they secure the wheel and help prevent any type of vibration. If the wheels you buy require an installation/lug nut kit to fit your vehicle perfectly we will include it for free!

When using the SEARCH BY VEHICLE tool on our site, you can rest assured that all these key wheel specifications were checked to make sure they match your vehicle's requirements.

The perfect wheels for your vehicle

The first step to find the proper wheels for your vehicle is to use our convenient SEARCH BY VEHICLE tool. Answer these different questions to decide:
Wheel size
Are you looking to stay with the OEM size? If you simply want to change the look of your vehicle, it can be a good decision as you'll be able to install your stock tires on the new wheels. To completely change the look of the vehicle, you can choose to upsize to a bigger diameter. This will drastically improve the look of the vehicle by filling the extra space in the wheel wells. On the other hand, if you are looking for winter wheels, downsizing an inch or two from the OE specs is a good choice, giving a taller tire profile for better handling in the snow.
Finish
With the different finishes now available on the market, you will have to decide if you want to install colourful wheels or a more classic finish like silver or black. On modern cars from the past decade, the black machined two-tone finish is very popular and there is a great selection of aftermarket wheels with that specific finish. Selecting the correct wheel colour will greatly depend on the vehicle's colour.
All year long or seasonal use
This will determine the finishes to use according to the seasons. For a wheel that will be used in winter, exposed to snow and abrasives, it is recommended to get a "solid" colour like silver or matte black. Two-tone wheels are not recommended for winter use and they should be, like brightly coloured wheels, reserved for summer temperature (or all year long for states without snowy winter).
To start searching for the best wheels for your vehicle, use our SEARCH BY VEHICLE tool. This will show you all the models guaranteed to be compatible with your vehicle and then you'll be able to choose exactly what ideally suits your needs.
Taking Care of your Wheels

Understand how to effectively maintain each type of wheel.
Cleaning wheels with a painted finish
Avoid using chemical wheel cleaners to prevent damaging the clear-coated finish. If you wash your vehicle on a regular basis, there is no need to use them. When washing your vehicle, start with the wheels when they are cool. Since the finish on your wheels is similar to your vehicle's paint job, use a mild detergent that is designed for automotive finishes. Use a washing mitt or a soft sponge, avoiding any brushes or abrasive pads as these will scratch and damage the finish. We also recommend waxing the exposed areas of your wheels three to four times a year or more. This will maintain the new look longer and will help keep other elements from damaging the finish of your new wheels.
Maintaining your alloy Wheels
Proper maintenance will prevent damage to the wheel finish and keep the wheel finish warranty from being voided. Before installation, apply a coat of non-abrasive car wax to the wheels to protect the finish and make it easier to clean them. Clean your wheels often using mild soap and water and a soft sponge or cotton cloth. Reapply a coat of wax at least once per season.
Do not use abrasive cleaners, pads or polishing compounds on your wheels.
Do not wash your wheels when they are hot as it will damage the finish.