Questions about wheels
If you have any questions, please call toll-free 1-800-550-5777.
Here are the steps to follow to navigate the site more easily and find out how to shop.
Please contact us if you have any questions.
1. Enter your vehicle information and click on SEARCH.
1a. You have to select all the information on each drop-down menu of the search bar. The information needed is: Year, Make, Model, Submodel and Option.
1b. Then click the blue SEARCH button to see all available and compatible wheels for your vehicle.

---
2. Read the notice carefully and make sure you know your vehicle info and tire specs.
2a. Click on the empty check box at the bottom left of the notice to confirm that you have read and understood the information about wheel selection.
2b. Then click the blue SEARCH button at the bottom of the notice.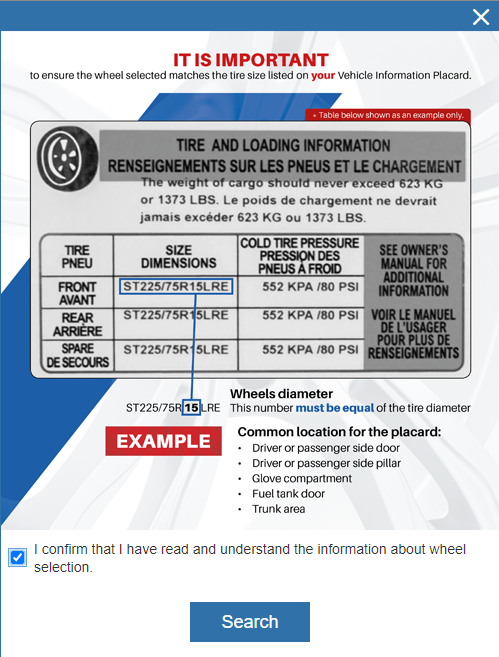 ---
3.
Here are some steps to make shopping for your wheels easier/quicker:
3a. Use filters on the left side of the page to narrow your search.
There are 8 filters available to help you narrow your search as needed: Diameter, Part Type, Direct Fit, Colour, Price, Offset, Width, Hub centric

To select an option in one of the filters, click on the + sign at the right of the filter's name and then click on the empty checkbox to select the filter option.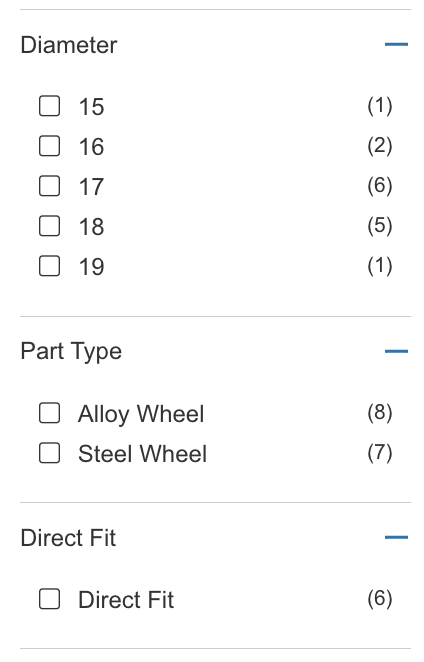 3b. Click on the grey MORE DETAILS button on the right side (circled in the image below) to see the information for that particular wheel.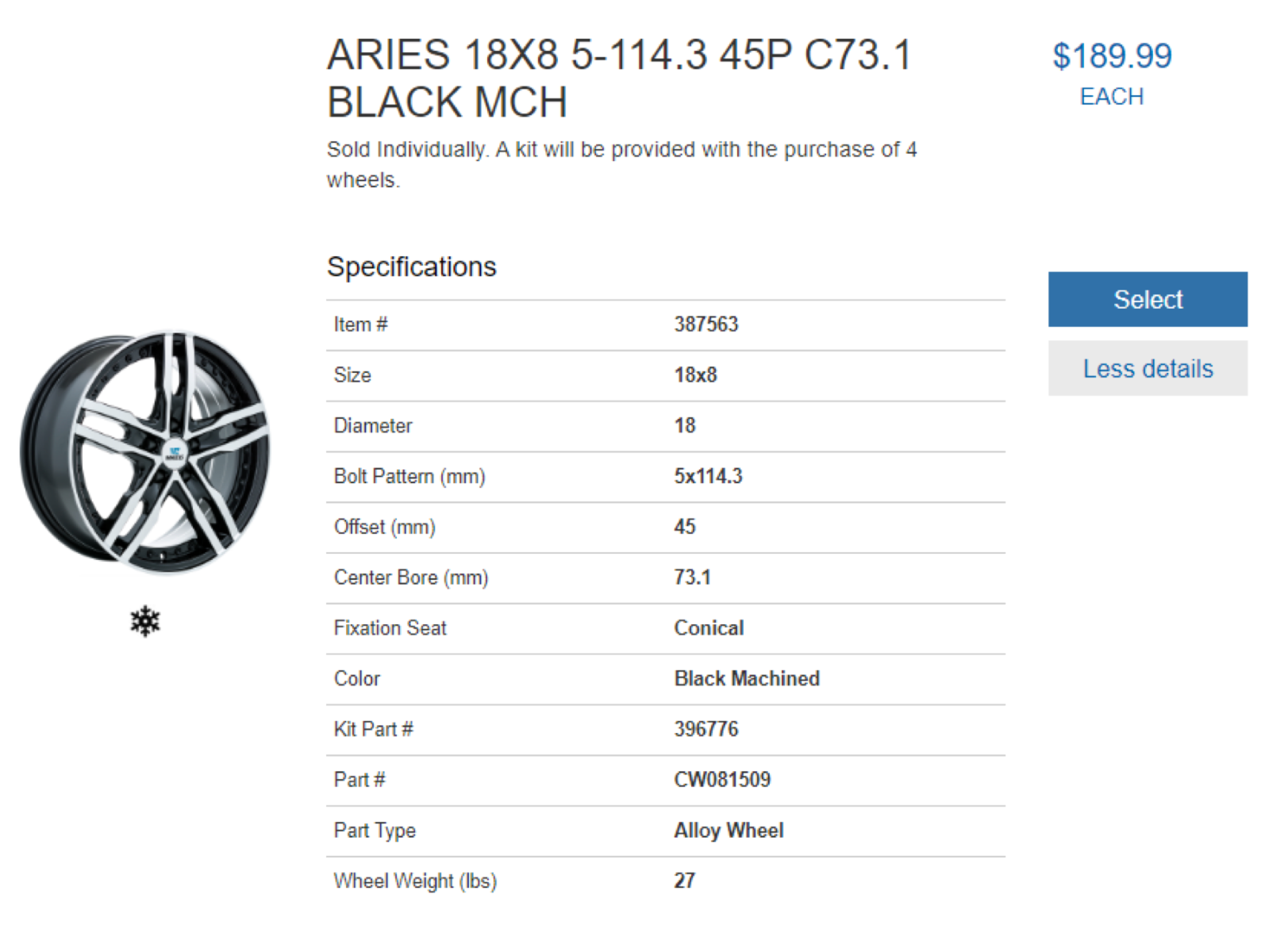 ---
4.
Here's how to finish your purchase:
4a. Click the SELECT button on the right side of the page (circled in the image below) to add a wheel to your cart.

4b. Enter your Costco.ca member email address in the appropriate field. This field is at the bottom left side of the screen. You must confirm this email address in the field on the right. Then, click the CONFIRM button at the bottom to be redirected to Costco.ca.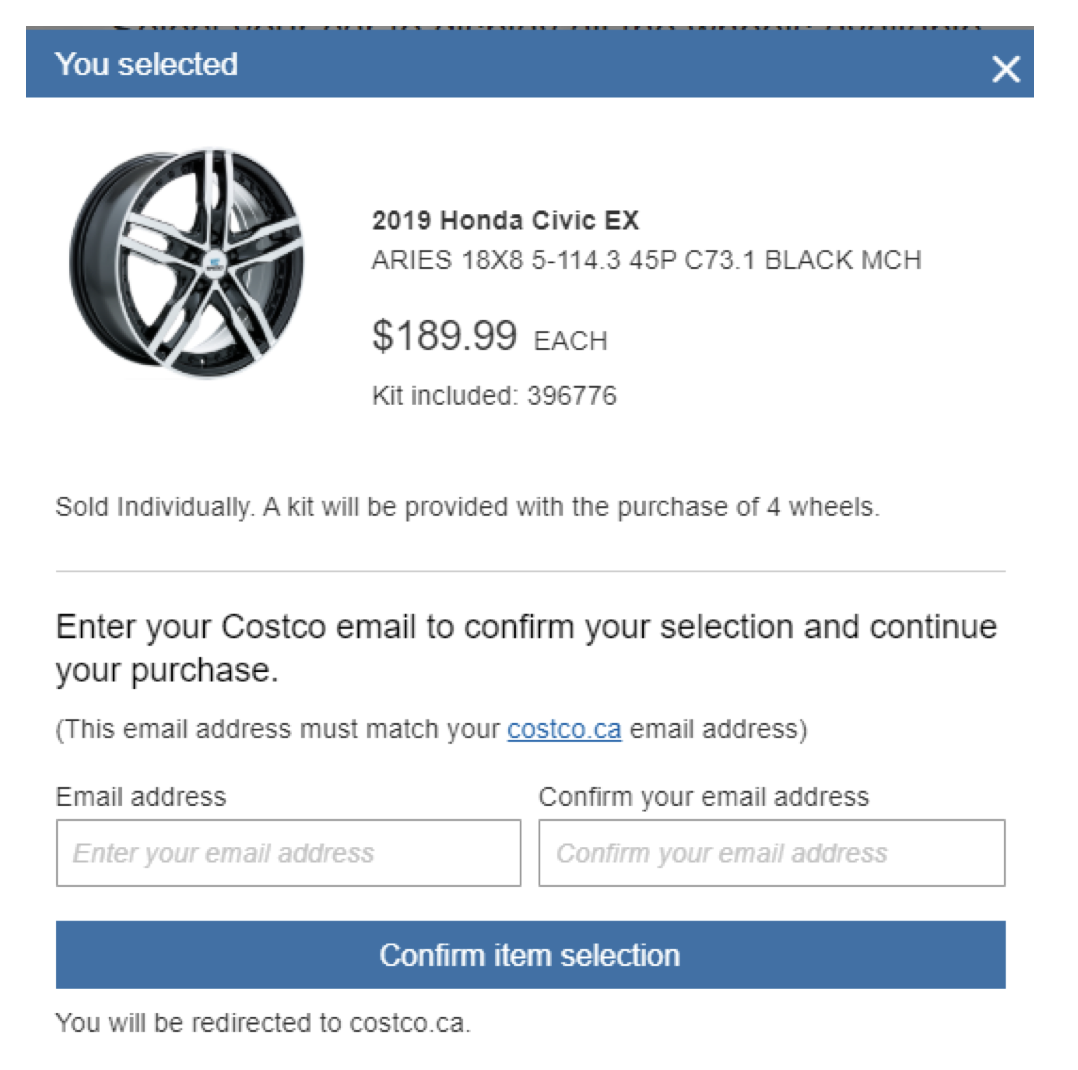 4c. You will be redirected to Costco.ca website to complete your order. Don't forget to change the quantity to 4 in the QUANTITY box in the middle right side of the screen if you want a complete set and installation kit. Click ADD TO CART just beside the QUANTITY box.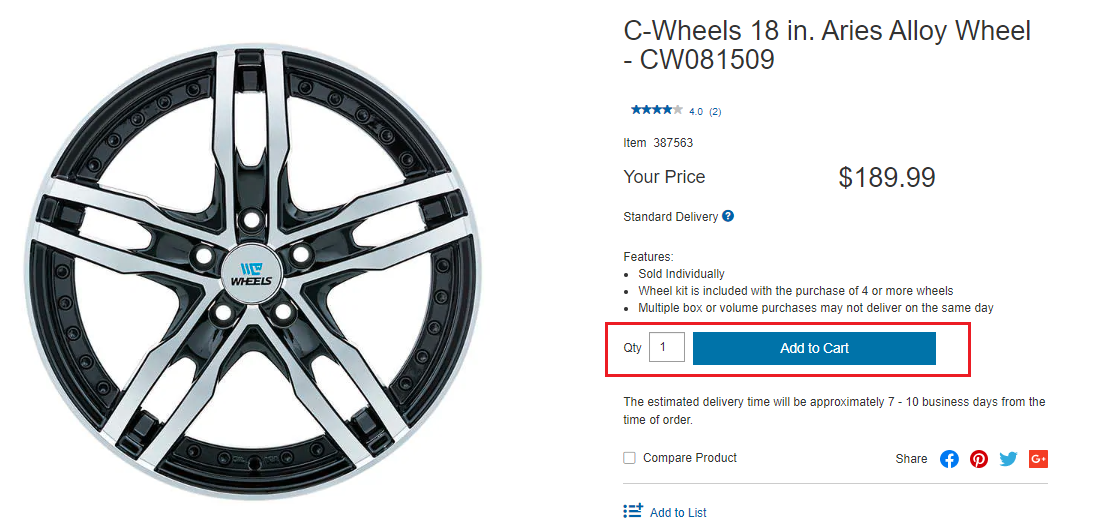 ---
Please see info concerning our little logos below.
Hub centric : Hub centric wheels are centred on the axle by the centre bore of the wheel.

OE Hardware : "OE hardware" means that you will be able to install the wheel using the original nuts/bolts of your vehicle.

Winter Approved : These wheels are approved for winter use.